If there is one thing educators can agree on, it's this: Children do better in school when their parents get involved in their learning.  - William J. Bennett
 Parents as Learning Partners
12/9/16 at 8:15 AM- 9:00 AM
If you want to experience what your child is practicing in class, come and play a game with your child.

​

​

Please come to our PTA meeting!

12/21/16 at 8:15 PM

​

​Parent -Teacher Conferences 

December 8, 2016
Please note:11:30 AM Dismissal

Afternoon Sessions: 1:00 PM- 3:00 PM 

Evening Sessions:      5:30 PM- 8:00 PM

​

​

Holiday Breakfast with the Principa

l!
8:15 AM

​Parent  Tuesday Workshops  

At

2:30 PM

  12/13 - 3&4

   12/20 - 5&6

Curriculum overview with strategies to assist your child at home.

​

​

Parent Math Resource
Bedtime Math
​

Explore math problems in English or Math by downloading this app.  Visit the website by clicking below:

​

​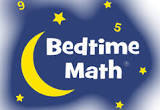 Winter Concert

12/15/16 at 7 PM

Please come and see our chorus and band perform!

​

​