If there is one thing educators can agree on, it's this: Children do better in school when their parents get involved in their learning.  - William J. Bennett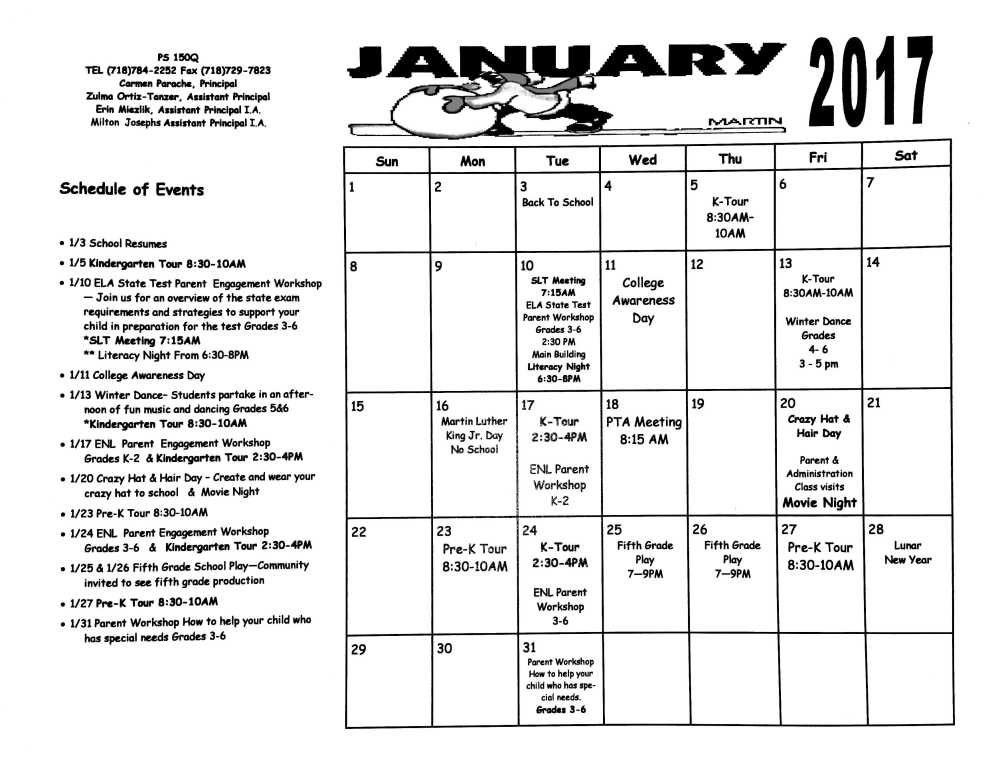 SPECIAL REMINDERS
Parent Learning Walk​

Parents are invited to walk with administration to visit different pre-scheduled classrooms across grades.
Crazy Hat & Hair Day!

​Your child can create a crazy hat or design his or her hair in a creative way!

Kindergarten Tours
1/5 & 1/13
at 
8:30AM - 10AM

1/17 & 1/24
at 
2:30PM- 4PM
​

PreK Registration Information
Please come to our PTA meeting!

1/18/17 at 8:15 AM

​

ENL Parent Workshop 

at

2:30PM

Main Building

Room 207
Grades K-2 1/17/17
Grades 3-6 1/24/17

​

K Registration Information
Main Building: January 18, 2016

Annex: January 19, 2016

If you have not received your photos  please contact customer service.
Contact Customer Service:
Call: (800) 540-4701
or 
Email: customercare@irvinsimon.com
​

​

Arrival & Dismissal
PreK - 6 8:05 AM- 2:25 PM

Breakfast served beginning at 7:30 AM

Please click below to get arrival/dismissal procedures 

SCHOOL SCHEDULE

Period
Time
Lunch/Grades
Period 1    8:05 AM- 8:55 AM
Period 2    9:00 AM- 9:50 AM    
Period 3    9:55 AM-10:45AM  
Period 4  10:50 AM-11:40AM   (1st & 6th)
Period 5  11:45 AM-12:35PM   (3rd & 4th)
Period 6   12:40PM- 1:30 PM    (2nd &5th)
Period 7      1:35 PM- 2:25 PM